Garden Offices and Studios from Extra Rooms
Extra Rooms January Offer
Ventilation is often overlooked by our clients, yet it is crucial on a warm day as well as for fresh air on the colder days. Why be forced to prop open the door when you can have what we call a 'letterbox' window. This is a 120cm wide x 45cm high, full top opening window that is positioned at high level to give good ventilation and light into your new office.
Any orders placed in January will receive one FREE of charge (normally £264 inc.VAT).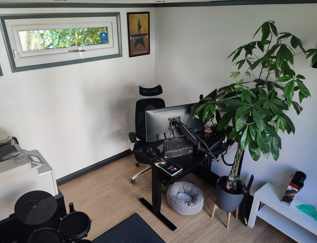 =================
Why not get an accurate price or order a brochure ?- just use these links.
Or give us a call on 01159 899 555 or email  extraroomsdavid@gmail.com with your name and phone number and we'll be happy to give you a call.
How we work
Unlike a lot of other garden room and garden office suppliers, we build everything ourselves. In our opinion this is the only way to make sure that your garden building is the very best quality and that you get the best value for your money.
Why choose Extra Rooms
Bespoke construction to suit your needs
Superior attention to detail and quality
In house building and constant client supervision
Fast onsite installation (70% completed in 1 day)
How does it work?
1
Enquiry online or by phone
Get in touch with our friendly team through our contact us page or by calling us at 01159 899 555. We will help you to understand your requirements and provide you with a more accurate quote for your bespoke garden room
2
Site visit and project details specifications
We will schedule an on-site visit with one of our our extraroom team members, to discuss the project with you in detail and take measurements for project drawings
3
Offsite building construction and monitoring
You are very welcome to come and visit our factory to inspect progress, quality and finish during and after construction. In addition we can provide you construction progress photos during manufacture to allow you to monitor progress and specification accuracy
4
On site fast building installation
Our teams of skilled tradesmen normally install foundations and complete the entire gareden room installation in just one day, up to 15 square metres, depending on distance to be travelled. This makes our company one of the fastest and least disruptive in the business. Allow 2-3 days for larger buildings
Client feedback
Can I take this opportunity to say thank you very much for what you created when you did the initial survey and a big slap on the back for Barry and his crew.  Well, everyone at your company for a first class job!
Bernie
Client feedback
Both myself and my wife are extremely pleased with the whole project and to the high standards that have been maintained throughout, we can honestly say that it has exceeded our expectations and if anyone wishes to come and see it we are only too pleased to show them round
B. Z - Luton
Get our latest brochure
Our garden office brochure contains building specifications, installation and construction details, pricing and guarantees, as well as general case studies and photographs.