Dear ExtraBloggers, thank you for joining us today. In this session, we will be mainly studying the GEOMETRY of odd shaped garden rooms!
As we make everything here from scratch, it makes no difference to us what the size or even the shape is and whilst those garden rooms often involve a lot more head scratching, we do make some very 'irregular' buildings sometimes.
A gentleman rang today inquiring as to whether we could fit a building into his triangular garden in north London. The answer: "Yes Sir, of course we can",(and often do!).
It means our customers can have a building where they could perhaps not have done before, or have a much larger one than a simple rectangular garden room in the same space.
So I went through a few things with him, I explained that they are a bit dearer than rectangular ones, because all the materials we use come in rectangles and so naturally there is therefore a lot more wastage.
In his case it would perhaps be even more true than usual since his triangular building was to be quite an acute angled triangle.
It is not just the extra time spent head scratching, and there is plenty of that sometimes. The off-cuts can rarely be used as the tongues and grooves are reversed so have to be discarded. For example with the laminate floor, every off-cut has to be discarded and there are a lot of them. Even if he was to decide to have carpet instead, that still means a very large triangle of waste as a roll of carpet is always a rectangle!
So all in all we have to charge about 25% more per sq metre to accommodate the wastage, but we would suggest that is a relatively small price to pay if it gives you a useful working space you could not otherwise have had.
So having explained all that to the customer, he had one question to ask and it did make me chuckle. Him too when he realised the potential outcome... (Pay attention at the back of the class please!)
He asked, "Are these buildings portable?"
I told him they are, we do indeed re-locate a few garden rooms and offices. Pretty rarely (but sometimes people get attached to them).  However, I pointed out that if he did decide to relocate his, he would have to be pretty selective when choosing the appropriate garden!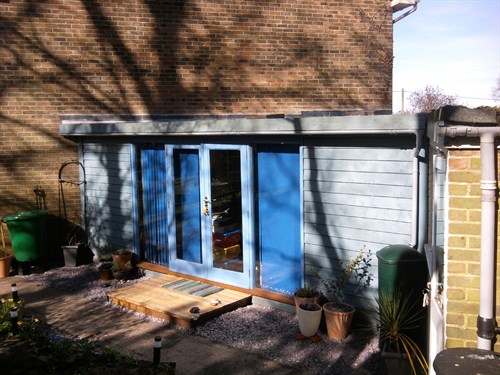 Author: David Fowler