Hi there everyone, we at Extra Rooms hope everyone has had an excellent seasonal break. Meanwhile, we've been doing some thinking over the summer...

After making hundreds of garden studios over the past decade, we have finally decided that whilst historically most customers have felt that timber buildings should always have timber doors and windows, circumstances have changed and we are no longer supplying them as default.
Why? Some issues of late with the new manufacturing process of timber doors and the integrity of modern timber generally.
Doors used to be solid wood, but most are now made of a blockboard core and a veneer finish. This supposedly makes the doors more stable and less prone to warping but we suspect it was just an accountant driven cost saving exercise.
One building we did a few years ago near Cambridge, had 2 sets of French doors and 2 top hung doors acting as large tall windows, all failed after about a year. Of course we helped put the problem right, but with all the glass having to be changed as the sizes of the rebates were slightly different, the cost of the whole exercise was not good news for us! Obviously this is an extreme example, but it has made us think about viable alternatives.
So why don't we just find a supplier of good old fashioned hardwood timber doors?
Well, timber nowadays is not seasoned as it used to be, it is often force-dried in kilns and the drying time is sometimes reduced as a cost cutting measure. The result is that the timber itself is not so stable, too many now often warp as a result.
So in future wherever the customer is happy, we'll be steering clear of timber doors of all descriptions altogether, be they hardwood, softwood, softwood with hardwood veneers etc...
It's true to say that Window frames don't seem to suffer so much, but there seems little point in having a hotchpotch of timber and plastic, and modern uPVC windows have excellent locking mechanisms as standard and never need painting or finishing, plus they don't have to be white like in the old days!
So whether you are thinking of getting a building from us or anyone else, take note of our experience. Forget timber doors, and think of the advantages of uPVC doors for your garden office, there are now some fantastic alternatives in a wide range of colours.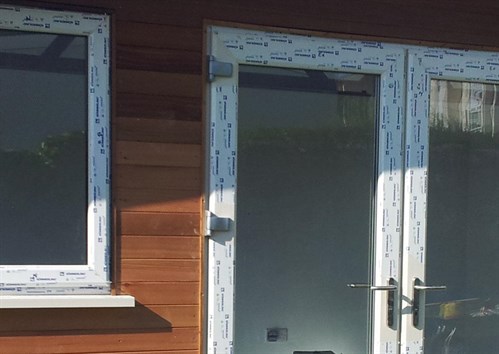 Author: David Fowler