We do have quite a lot of photos of garden offices and rooms on our website, but as you can imagine, with most of our buildings being finished on the site the same day they arrive, unless it is in midsummer then it is dark by the time it is finished - this is what happened on this occasion.
However, a couple of years on, yesterday in fact, I was quoting for another garden room only 500 yards away and I told the potential customer that there was one of ours close by so they asked me to get permission to show them around.
I eventually found it and asked the owner if it was ok and they agreed happily and asked me if I too wanted to see it and of course I accepted the invitation with curiosity!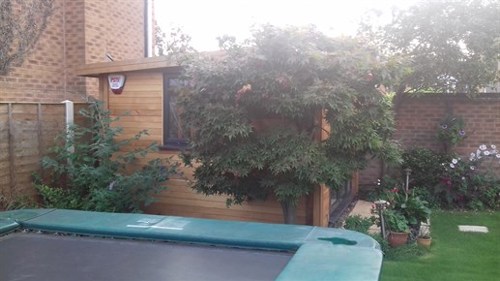 How lovely it looked too, so much better than a bare building like many on our website.
I remembered how we built it to as big as possible in order to both maximise space but also squeeze behind a tree in their garden. It was a tightish fit (and in fact since then the tree has grown a bit too!)
The customer was especially pleased with it because where it is sited there was just an unused corner with an old tree stump in it and so it took nothing out of the garden by having the building there.
It is always an advantage with the bespoke build of our garden rooms, with the cladding being on the building as it arrives on site. This means we can go really close to the boundaries, in fact nobody can go closer because we can touch the back fence if we have to, most companies have to leave a space to allow them to fit the cladding on site. 
This not only takes time on site, but also robs the customer of half a metre or even a whole metre of space in some cases. In turn this then makes for a much smaller building in many instances, but with Extra Rooms you get the max, more bang for your buck in effect!
Don't get me wrong, it is better to leave a bit of space to squeeze by at some time in the future if you have space to play with, but with us it is not a necessity.
So this building is an example of where you can have a garden building of a very useful size in the corner of the plot and when there is a nice path leading to it and some carefully placed plants nearby, making it an attractive feature as well as a useful one.
Author: David Fowler