Well it is going in at last, just a couple of stage photos for now but give us a couple of days to get it installed and we will be able to show it in all its glory. Watch this space...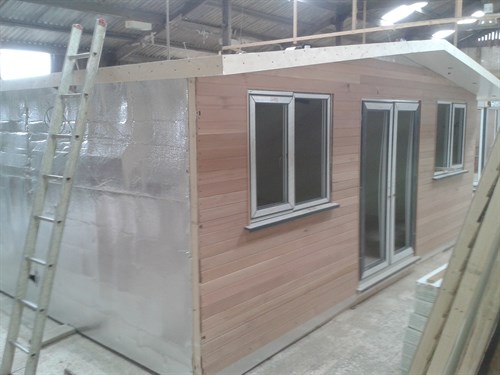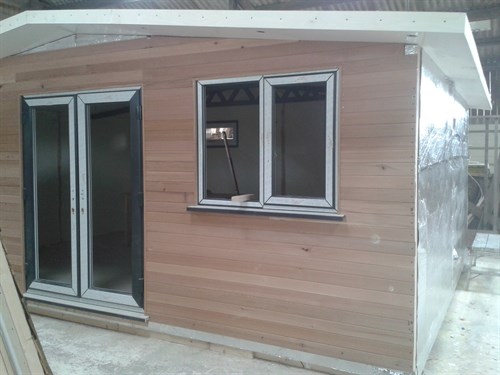 Man or woman - how could you not want your own personal 'cave'?
Somewhere to keep important gadgets that don't fit in the house, for example, a proper snooker table, that's a must for a start, and that's exactly what is going in this one for starters.
PLUS a card table in one corner with specific lighting directly above it, a bar of course, a dartboard properly lit, all well though out.
Apparently when setting up a proper snooker table it is not just a question of checking it over carefully with a spirit level, oh no! A team of properly equipped men come with special measuring equipment, getting it level to almost atomic accuracy.
So of course, extra care was taken with the piled foundations, extra large, cruciform in shape for extra grab too.
Obviously things don't always run smoothly in the workshop - so when doing the EPDM roof (a double pitched roof with twin trusses which will neatly carry a frame for the snooker table lights) things went a bit wrong... We sometimes use some expanding filler where the panels meet at the ridge, just to make everything airtight and draughtproof prior to the rubber roof layer, and one of the men having used it passed the can down to the man below who 'miss-fielded' it. The can punctured itself on the corner of a trestle and burst all its remaining contents everywhere, all over the front of the building then spinning about and making a pile of foam in a heap! 
No injuries sustained by humans or animals, so just as well we apply the sunblocking oil to the cedar at the end of the job and not in the factory, so we could sand it down to clean off the foam!
Such is life, we've sorted it and installation is scheduled for the coming week.
Author: David Fowler