Up to now we have been offering nothing but bespoke and complete garden rooms, installed and including a foundation and maybe we should give some more options?
Most of our customers want everything done for them, turn-key but some have asked if we can do a DIY version, and really we ought to offer that choice.
We did have a dalliance with it many years ago for one project only, and when it came to it, I did not like a building leaving the factory incomplete, it hurt, so we withdrew the offer and carried on as before.
But was that right?
Who knows, perhaps we ought to rethink.
Having worked our costs out (hopefully accurately - we shall see on that score!) we are going to do the experiment again and offer part-completion but with all the kit and components for the whole build but at a 25% discount.
The difference between our buildings and many other with the "roadside delivery only" option, is that the building usually arrives at the roadside in a packing crate and that is the end of the story, the customer literally picks it all up from there and often struggles to get it all together. The weather frequently intervenes in these non sunny climes, turning it into a bit of a nightmare!
What we leave still to be done is a much easier assembly, as the building will still be in bespoke S.I.P.S panels but sized to suit the building, as we make them ourselves so they are appropriately sized for the building, minimalising the number of panels and reducing or removing joints.
The buildings, being in panel form, will already contain the wiring etc and be full sized so it is not a matter of starting from the ground plank by plank like a summerhouse and then having to line it out and wire it on site with surface mounted plug sockets and surface conduits.
We insulate them and line them out and plaster them as before, so all that arduous work will already be done.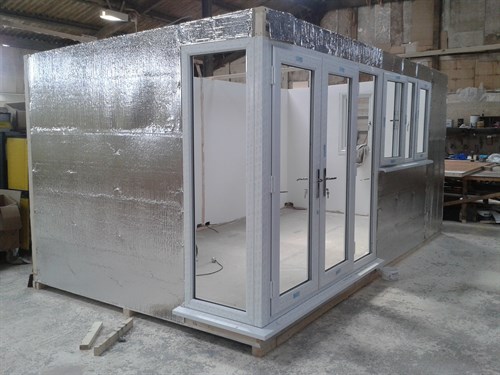 We shall see how much interest is generated but it will save customers 2.5k plus vat on a 12.5k job so if it takes a few weekends and evenings to complete, there may well be a few takers (quite a saving for a bit of time spent on DIY on a weekend or over evenings).
We'll make the option available from this coming week.
Author: David Fowler