Hi there Extra-Roomers! Some great news...
After recently swallowing the pill and going for Upvc as default for our garden rooms and offices (though not entirely compulsory), we have just come across a new greener version of PVCu which we are now ready to offer - recycled PVCu.
This product has the advantage that it comes as a modern looking deep shade of grey, this means the actual extrusions are deep grey.
Until now, if you wanted grey you had to have white PVCu with a foil treatment to provide the grey colour, this meant that when the doors and windows of your garden room were ajar, you could see the grey front faces, but the internal colour and also the colour of the edges of all windows and doors was still white.
Now that the actual extrusion is a dark grey, this will no longer happen. This does not mean that nothing else has to be done, as the recycled PVCu is not UV stabilised, so whatever surface faces the sun for long periods may eventually fade and go streak, so it still has to be foiled a sharp colourfast permanent grey on the sun facing sides. When ajar however, you will not be met by an incongruous white edge, which is a real bonus.
PVCu has often been frowned upon because it is not really a green product, however it is warmer than Aluminium, extremely low maintenance and of course unlike timber, the doors never tend to warp or delaminate - besides improved security, this was the main reason we decided to move to PVCu.
Now however, the only remaining negative point has been removed, recycled PVCu now stands up as a green product like never before, as it both saves landfill and raw material consumption.
We will be encouraging its use in the future in our garden buildings.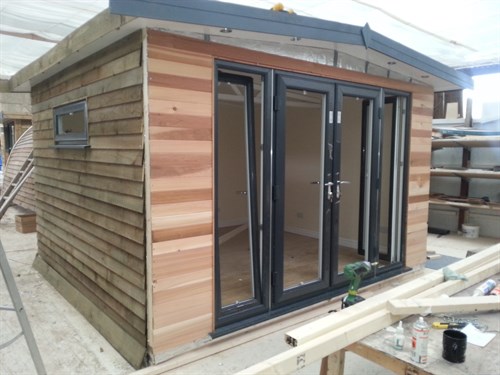 Author: David Fowler