On an average day you'll find us beavering away with both normal garden buildings and what we call Pods.
We have been building normal buildings for over a decade now and weve made hundreds of them to date. I lost count when it was over 300 and that was a year or two ago so it must be getting close to 400 now, the Pods, however, are still relatively new.
We always expect to have a learning curve when we build any bespoke building, as we have always done. But these days whatever the size, use, shape or design, we can honestly say (and prove with photos) that we have done something similar before.
But not with these garden Pods...
They are so much more complex, making something from initially flat and straight materials, into an end result which is beautifully rounded and curved.
Not only that, but by virtue of the fact that they still need doors and windows for people to either gain access or for ventilation, these elements also have to be curved to properly reflect the unique shapes.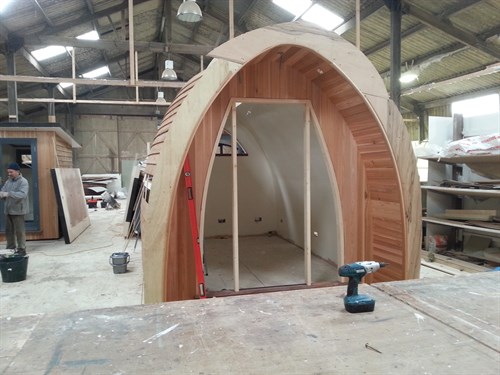 We have seen some that are more like nissen huts or poly-tunnels, but they miss the point, they have rectangular windows and doors and fall completely short of the mark. Although what we produce is so much trickier, we would not get satisfaction from anything less. All the magic would then be lost!
So we have to make the effort, but goodness, it is a lot of effort! With these pods, the width of the building determines the shape of the windows, both for the back gable end, and the curved windows each side of the front door. Each has to be painstakingly marked out, debated and then finally, when all the proportions are correct, we can start to make it.
Then since the curves have to be different to get the shape right but still fit everything in (whilst looking balanced and aesthetically pleasing) more problems arise. Heads have to be scratched and solutions found for each individual building, so it is one heck of a long learning curve and most likely the end of it will never be reached!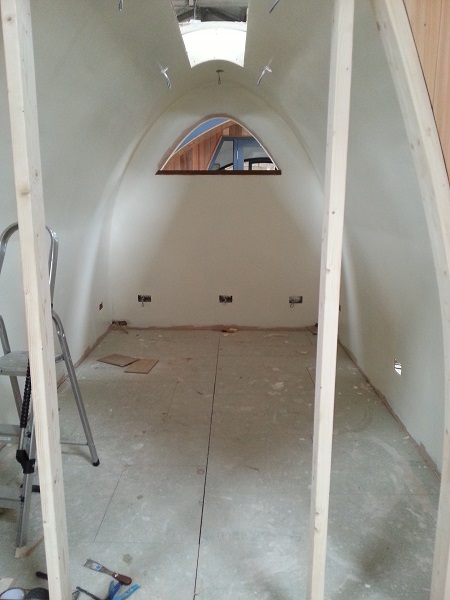 But then a customer sends you a comment like this: I'm working in there more now... this lunchtime there were some lovely twinkly patterns on the wall, reflected by the mirrors from the little pools of water on the skylight.
That is what these garden rooms are all about, they are so different. Different in looks from the outside, and so different to be in, so cosy and friendly.
It is great to be involved in such an interesting and satisfying project. (Or so we tell ourselves till the next headache comes along!)
Author: David Fowler